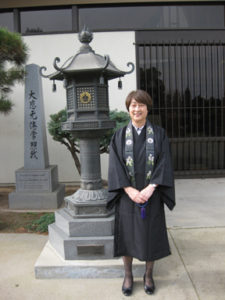 I was born in Tokyo, Japan, as the eldest daughter of the late Rev. Sachihide Motoyoshi and Mrs. Sonoe Motoyoshi. Because my parents were Nisei from Hawaii and missed Hawaii so much, they decided to return to Hawaii when I was 16 years old. There I learned how to speak English. Although I was born into the temple family I didn't really appreciate the Nembutsu teaching. In fact I was anti-Buddhist till right before I graduated from University of Hawaii-Hilo with a degree in Liberal Studies. As I began thinking about plans my future, I started to question, "Who and what am I?" In the process what I recalled hearing in Dharma talks, and what my father had been saying started to really make sense. That was the beginning of my Nembutsu journey, and interest in becoming a Jodo Shinshu minister. With this career goal in mind, I enrolled in a Masters of Buddhist Studies program at the University of Wisconsin, Madison. After receiving an M.A. I attended Ryukoku University in Kyoto to fulfill educational requirement for the Hongwanji Kyoshi certification, and enrolled at the Gyo Shin Kyo Ko advanced Shin Buddhist studies program in Osaka.
I had served Hawaii Kyodan for 33 years. In those three decades of ministry in Hawaii I was privileged to serve at the Hilo Betsuin, Mililani (Oahu) and Lihue (Kauai) Hongwanjis, and finally at the Hawaii Betsuin in Honolulu. My experiences with members and ministers of Hawaii Kyodan were wonderful and I am sincerely grateful to them. I have learned that whatever we did in our services or programs were all response to Amida Buddha's compassion. They had certainly helped me to deepen my appreciation of the Nembutsu.
Now, I am assigned to the Stockton Buddhist Temple where I would like to continue to pursue and deepen my appreciation of the Nembutsu by sharing the Dharma with my new sangha friends.
In Gassho, 
Rev. Yukiko Motoyoshi